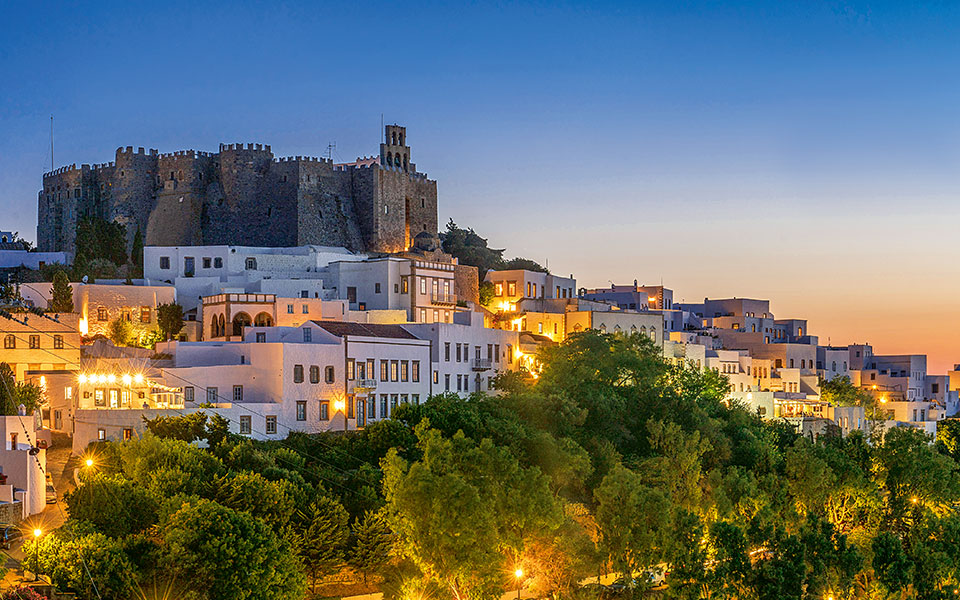 Days:      Friday and Sunday with "Dodekanisos Pride".
Hours:    Agios Kirikos-Patmos 09.30-10.25
                 Patmos-Agios Kyrykos 15.20-16.15
A few words about Apocalypse Island:
Patmos, also called "Jerusalem of the Aegean", is a magnet for tourists & believers from all over the world. Nocturnal and at the same time cosmopolitan, it has an aura of an otherworldly air, one would say mystical, a mixture of Venetian & Byzantine culture. Ottomans, Italians, Knights of St John, Pirates and Saracens have passed through the island and all of them left their mark on the place.
The port of Patmos is Skala and it was one of the most important commercial ports of the Mediterranean since the 16th century. Near the port there is the beach of Ag. Theologian where you can bathe and you will find natural shade from the trees that are there. It is the most populated settlement of the island and has various souvenir shops, restaurants and cafes. It is worth visiting the church of Panagia Koumana, the ruins of the ancient acropolis and the church of Agia Paraskevi of Kavos (17th century).
The Town of Patmos is located at a distance of 3 km. from Skala. In the castle town of Chora, you will get "lost" in its labyrinthine and beautiful alleys, looking at the captain's houses and the old mansions that stand proudly there, some for centuries. The monastery of Saint John the Theologian is built on the hill above Chora and since 1999 has been declared a UNESCO World Heritage Site (along with the Cave of the Apocalypse and the historic center of Chora), it was built as a castle because it offered protection to Christians from the pirates or any invaders trying to attack. The library of the Monastery houses unique manuscripts and documents dating back to before 1073 AD. The Cave of the Apocalypse was the place of exile of John, the beloved disciple of Christ, who, together with his disciple Prochorus, wrote the divinely inspired book Apocalypse and perhaps the 4th Gospel according to John, after being dictated by God. In the cave is the place where John rested, the rock that was torn when God dictated the Apocalypse, and the hole in the rock that was used to raise the Evangelist. In the Holy Monastery of Zoodochos Pigi (1607) there is the miraculous fresco of the Virgin of Eleusis (1763) painted by the Hierodeacon Athanasios from Crete.
| | | |
| --- | --- | --- |
| Day | Friday | Sunday |
| Departure from Ag. Kirikos | 09.30 | 09.30 |
| Arrival in Patmos | 10.25 | 10.25 |
| Excursion duration | 5 hours | 5 hours |
| Departure from Patmos | 15.20 | 15.20 |
| Arrival at Ag. Kirikos | 16.15 | 16.15 |
| Price |   |   |